Roll over image to zoom in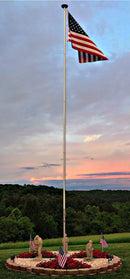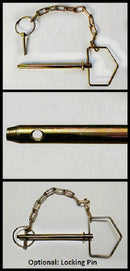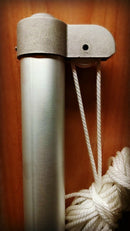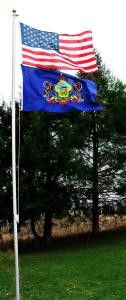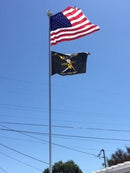 Q.  What is wrong with the smaller residential sectional flagpoles?
A. They bend.
Q. But why? 
A. Simply because most of them are imports that they use lesser, cheaper strength aluminum and/or very small wall thickness of 18 or 16 gauge.
Read the reviews of any big chain stores and you will consistently see the same comments over and over again, "They bend, they break in half, not to be used in high windy conditions, etc."
Yes. They will do a great job, if you install them in your living room. 
USA Made 17', 23', and 28' Sectional Flagpoles

Telepole is continuing to change up the sectional flagpole market. We are now offering our sectional flagpole in 3 diameters - 2", 2.4" and our biggest diameter of 2.75".  All 3 sizes are available in 17', 23', or 28'. 
Our new 2.75" diameter flagpole is the strongest sectional flagpole yet.  Our strong aluminum tubes feature double the wall thickness (10 gauge), all manufactured with our unique 7000-T8 series aluminum of double the strength of any 6000 -T4/6 series.

These new sectional 7000 series aluminum flagpoles of nearly 70,000 PSI are stronger than mild steel ones of 54,000 PSI and any and all other sectional flagpoles of 23,000 to 28000  PSI.
Continuing our motto, "Strongest in the market flagpoles," this 10 gauge aluminum carries a 15 year warranty, including weather damage. Any and all parts of the flagpole can be replaced within fifteen years for a minimal charge for shipping and handling only.  We will continue to support our products indefinitely even after the fifteen years warranty has expired, with a low cost for any and all parts.

A great, super strong flagpole at a reasonable price for your own use and/or gift that will last many years.

The indisputable case with our Telepole aluminum Telescoping flagpoles is that they are the strongest in the market (presently Telepole offers 10 different styles and sizes telescoping flagpole – and growing). With our newest line of sectional flagpoles we provide you the same top quality and strength as our telescoping flagpoles.  All of that is made proudly in the USA.

Our 17' sectional flagpole consists of (3) six foot 10 gauge sections.  While our 23' sectional flagpoles consists of (4) six foot 10 gauge sections.  Out 28' sectional flagpoles consist of (5) six foot 10 gauge sections.  
Rope type Flagpoles includes:
1.  3" gold ball

2.  Large cast aluminum cleat

3.  Extra thick custom aluminum ground sleeve

4. Strong thick breaded  rope

5.  Heavy cast aluminum topper with pulley.

6.  Heavy duty 10 gauge aluminum tubes

7. Four stainless steel clips
8.  Easy to install instructions.

This beautiful flagpole will add new beauty to your yard and house. 

Let Old Glory fly proudly in front of your home.  
How do I return an item?
Looking to return it or make an exchange? No problem! We have a no-hassle return/exchange policy: we guarantee your complete satisfaction. If at any time you're not 100% satisfied, send your unused gear back within 30 days of receipt for a full refund. No questions asked.
(If the return is past the 30 days the item may still be returned, however, there will be a 25% restocking fee on items)
To make a return or exchange: 
If you have any questions you can always give us a call or email
Service First Flag Poles
contact@oldgloryflagpole.com  
Phone: (385) 985-7244
Additional questions:
How long will it take to get my refund back?  Once your package is received and processed the refund will show up after 4-10 business days, depending on your bank. 
Is there a time limit on returns?  Yes! Gear will need to be returned within 30 days of receipt.
Do I receive Store Credit or an actual refund?  You will receive a refund back to the original method of payment. (Refunds take 4-10 business days to show back on your account, depending on your bank.)
Do I need the packaging returned with the products?  Yes! Please return the products with all original packaging and tags. Items that are returned without the original packaging or damaged packaging will be accepted but are subject to a 20% restocking fee. Items that our returns team marks as unsaleable are not eligible to be exchanged or refunded, in these cases you may request photo evidence from us. 
If I use the gear can I return it?  No! We only accept used returns for warranty issues, that are approved by our team. If you have a problem with your gear call customer service to learn more about the warranty.
       We want you to be happy with your purchase and will do everything we can to make that happen!
We want you to be confident with your purchase.  We do our best to give you the best possible information to make a decision.  When this doesn't work we are here to refund or exchange your product as quickly and seamlessly as possible.  
Thank you for your business!
All orders are shipped using FEDEX, UPS or USPS depending on your location and fastest available service. Typical delivery time frame is between 14 to 21 business days however, you may receive your items much earlier. All orders are shipped with tracking number so you can track it every step of the way! If there will be any shipping or back order delays this will be noted on the product before checkout.
Payment & Security
Your payment information is processed securely. We do not store credit card details nor have access to your credit card information.